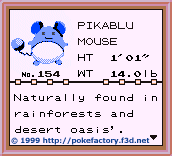 Poké Gods
are fake Pokémon that were, at one point, thought to be real. They include:
Trivia
The only proven Poké God was Mew.
Poké Gods were just about anything with a Pokédex no. higher than 150 (which, of course, was a really stupid idea)
For a while, Togepi was thought to be a Poké God.
Most Glitch Pokémon, including MissingNo., were assumed as Poké Gods (even though both 'M and MissingNo. were lower that 001 in the Pokédex)
Ad blocker interference detected!
Wikia is a free-to-use site that makes money from advertising. We have a modified experience for viewers using ad blockers

Wikia is not accessible if you've made further modifications. Remove the custom ad blocker rule(s) and the page will load as expected.